{{#infoboxbuilder: | 0:Theme = MC3 default | 0:ToggleContentLongerThan = 1000
| 1:Type = Footer
| 1:Value =
← Hostile Territories - Dragon King of the Sea →
| 2:Type = Line
| 2:Label = Chapter
| 2:Value = 

| 3:Type = Title
| 3:Value = Chase

| 4:Type = Image
| 4:Value = 

| 5:Type = Line
| 5:Label = Objective
| 5:Value = Escape

| 6:Type = Line
| 6:Label = Character
| 6:Value = James Walker

| 7:Type = Line
| 7:Label = Faction
| 7:Value = Phantom Unit

| 8:Type = Line
| 8:Label = Enemy
| 8:Value = KPR Alliance

| 9:Type = Line
| 9:Label = Location
| 9:Value = Alaska

| 10:Type = Line
| 10:Label = Date
| 10:Value = Unknown

| 11:Type = Line
| 11:Label = Rewards
| 11:Value = 

| 12:Type = Line
| 12:Label = Multiplayer map
| 12:Value = None

| 13:Type = Footer
| 13:Value =
Transcript for this mission
}}
"
Phantom Squad rescues the surviving soldiers of Razor Squad. Surrounded by hostiles, the team must now travel to the landing zone. However, the KPR forces have no intention of letting the escape.
"
—Announce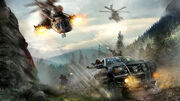 Chase is the fifth mission in Modern Combat 3: Fallen Nation. Phantom Unit has to escape from the KPR Alliance.
The team requested extraction but were denied, leaving them to steal a nearby 4X4 truck to escape the KPR.
Walker was tasked to fire on the enemy using a Shred-4 light machine gun to protect the vehicle from incoming hostiles. The team successfully reached the Landing zone and were reunited with the US military who soon regained control of the area.
Initial equipment
Obtainable
There is a common glitch where, at the moment the truck drives through some water, the character stops moving and the screen starts tripping.
In the French version of MC3, this mission is called "Adrénaline" on most places, but "Poursuit" on the mission opening.
Community content is available under
CC-BY-SA
unless otherwise noted.