"
Phantom Unit is deployed to Pakistan to secure intel pertaining to their next target: Edward Page. This operation is an unsanctioned military action in a foreign country. Given the stakes, you have been cleared to do whatever must be done to prevent another attack on American soil.
"
—Announce
Blood Sand is the tenth mission in Modern Combat 3: Fallen Nation.
Phantom Unit is then deployed into Pakistan trying to find and takedown a man called Edward Page operating under the name of "Zealot". They are given fire support by Carter but is shot down. Downs and Anderson move into the area to try save Carter but runs into heavy resistance and calls for backup. Walker and Washington come and help Downs and Anderson. Downs and Anderson stay behind to find survivors while Walker and Washington continue with the objective. They soon run into a sniper but is taken out by a friendly helicopter. The sniper was Edward Page, but he wasn't killed by the helicopter.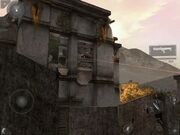 After moving to the sniper's position, Washington is shot by Page. Walker goes solo and tries to find Page. He ends up finding him and do some hand to hand combat. During this, Page rages about some secret projects done by the US government (COINTELRPO, Operation Paperclip, and MKUltra). Downs and Anderson come to help Walker out with Anderson tackling Page and interrorgating him. They find out where General Tong is hiding.
Equipment
Edit
Initial equipment
Obtainable
Characters
Edit
See also
Edit
Community content is available under
CC-BY-SA
unless otherwise noted.