Attacker


Blaze
Health
3750
Damage
445
Weapon
Flame-o-Matic
Ability
Mutant Grenade
Ultimate ability
Roasted
Alternate action
Target Snap
Background
Edit
Crazy town, burn town, burn it down! My safe words -- they center me. The ramblings of a disturbed mind, right? Can't argue with that! Crazy town, burn town, burn it down! Was I born this way or am I the product of a society where being "normal" means following one arbitrary cause after another--like, are you a Korp sheep, or are you an OCTO sheep? "Octo-sheep"...heheheheh... That's a good one. Moving on! As I was saying, I'd REALLY rather set the sheep on fire...
Crazy town, burn town, burn it down! Being an automatic charismatic eccentric with a questionable fashion aesthetic doesn't always mark you as the most THREATENING merc on the field... (You need a box helmet? I got a box helmet!)... But at least it lets 'em all know you're having fun out there! People LIKE fun! And my flamethrower is a lot of fun! And so is burning things with flamethrowers!
...Heh. "Octo-sheep". Classic.
Description
Edit
Blaze is An Agent in Modern Combat Versus. He is one of three legendary agents along with Monark and Sarge. The weapon he uses is a flame thrower called the Flame-o-Matic which leaves a burning effect. His starting health is 3750 which goes up from level upgrades. He is of the Attacker class.
Blaze's ability is the Mutant Grenade. The ability costs 8 energy. It is a grenade that does high damage on the initial blast and during the main explosion multiple mini grenades come out which do a bit less damage.
Uses: (1) Quickly clear a control point of enemies. (2) Get rid of a group of invaders trying to take the point.
Weapon: Flamethrower
Edit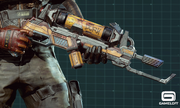 The beginning damage per shot is 24 per hit which doesn't seem like a lot but it has a lighting fast fire rate and even after you are done firing, the fire has an after burn. The weapon has a capacity of 30.
Uses: (1) Spray and pray (the flame have a wide radius and needing to reload is rare). (2) Sneak up on enemies and fire for a bit then run away while letting the after burn finish them off.
When purchased
Edit
"Agent unlocked! Oh, you're in for some fun."
When selected
Edit
"You like me? You really like me."
"Take a long, good look! Uh, eyes up here, mister."
"Don't I feel like the belle of the ball!"
"Oh ho! Is it my birthday already?"
"Ta-da!"
"I put the "fun" in...eh...fun killing!"
When deployed
Edit
"Hey there, boys and girls... Daddy's home!"
"Oh! I know! Let's play hide-or-you-die!"
"Oh, I haven't been this happy since my first homicide!"
"Shh, I'm visualizing my objective! ...Ah, OK! Let's go!"
"I haven't felt this alive since I was abandoned!"
"I have a 3 inch canister in my pants, and I'm not afraid to use it!"
Respawning
Edit
"I'm a bit of a slow learner."
"I don't wanna be dead, and you can't make me!"
"Ah, oops... I'll get ya next time!"
"It's my turn to be it, so you better run!"
Killing an enemy
Edit
"Aww... The little fella's tuckered out! Heh heh... And dead."
"Oh, night-night, baby! Don't let the maggots bite!"
"I missed you! KISSES!"
"Ahh! You liked that, don't you? Dirty..."
"Hoho, I LIKE you when you lie still."
"Mm, I'll have a side of BEANS to go with my roast! Hee hee!"
"Triple kill! So fun!"
"Huh? Is that three? Yes!"
"They keep comin', I keep killin'! Ha ha!"
"Four down! Oh, what fun!"
"And they said I'll never achieve greatness! Dicks."
"Are you guys even trying? Ha! Sad."
"BBQed five enemies!"
"One! Two! Enjoy some BBQ!"
"What number comes after four? I just killed that many!"
"I'm on, a killin' spree! Killin' spree! Woo!"
"I'm on fire! Oh no, wait, that's you."
"Bee-BQ for president! Tell all your friends!"
Activating ability
Edit
"Ahh, grenades. Who doesn't love explosions?"
"I'll make the baddies extra crispy!"
"Ready! Aim! Perspire!"
"Ha ha! Listen to my symphony of booms!"
"I get a grenade, you get a grenade, everybody gets a grenade!" (Enemy only)
"Wanna play catch..?" (Enemy only)
"Here, have a grenade!" (Enemy only)
"Mommy said not to play with grenades... Well, too late!" (Enemy only)
"I always dreamed this day would come!"
"Yeah! I'm on top of the world!"
"Group hug! ...Anybody?"
"I've couldn't have won this without my mom and dad's neglects! ...And abuse."
"Tell me ALL about the fabulous prizes I've won!"
"I'd rather eat nails. Mmm...nails..."
"Oh no... That monster in my closet is going to be so pissed!"
"Well that went really well!... If you enjoy masochism!"
"Just, gonna walk away. Don't wanna get any "loser" on me."
"Didn't have my game face. Can I have yours?"
"I always dreamed this day would come! Hello, beautiful!" (Jingle Blaze trailer #1)
"Heh heh, hi. Come closer! I wanna whisper in your ear... Ha! Jingle farts!" (Jingle Blaze trailer #2)
"Oh, yeah! Ha ha ha! Check this out... Yeah, you like it!" (Prisoner Blaze showcase)
"*Cough* "Way too much!" *Cough*" (poisoned)
Quick Chat
Edit
Group Up
Edit
"Uh, c'mere! Let's be besties!"
"Over here, honey!"
"Come closer! I wanna whisper in your ear..."
Ability Status
Edit
"I'm almost ready to blow!"
"Oh, I'm getting all charged up!"
"Chargin'! Get ready!"
"Ability ready, ha!"
"Aha! I'll make 'em go boom!"
"Hoo hoo! Time to release my little friends!"
Affirmative
Edit
"Yup. Uh-huh. Yup, whatever."
"Got it... Yup, yeah, OK, I heard ya! Shut it!"
"I'm hanging on your every word."
"Oh, such kind words for little ol' me! I didn't say stop."
"Ooh! Tell me more."
"Oh, stop! Go on, go on!"
"Heh heh, hi."
"Hello, beautiful!"
"Oh! Hi there."
Voice Line
Edit
"Oh ho! It's hunting time, friends!"
"Ha! I'm so excited!"
"Ha! Jingle farts!"
Default
Jingle
Prisoner
Brazil
The Flame-o-Matic is the only flamethrower in the series.
Blaze is featured on the game icon.
Blaze was formerly known as Bee-BQ.
Blaze was nerfed in the first update.
If Blaze is killed before he could throw his grenade, it drops where he died.
See also
Edit
Community content is available under
CC-BY-SA
unless otherwise noted.