{{#infoboxbuilder: | 0:Theme = default | 0:MainImageCaption = | 0:ToggleContentLongerThan = 1000
| 1:Type = Title
| 1:Value = Carter

| 2:Type = MainImage
| 2:Value = 
| 2:Label = 

| 3:Type = Line
| 3:Label = Appearances
| 3:Value =  Fallen Nation


Zero Hour
| 4:Type = Line
| 4:Label = Status
| 4:Value = Alive

| 5:Type = Line
| 5:Label = Call sign
| 5:Value = 

| 6:Type = Line
| 6:Label = Rank
| 6:Value = Master Sergeant

| 7:Type = Line
| 7:Label = Position
| 7:Value = AC-130 and helicopter gunner (MC3)
Hover Drone operator (MC4)

| 8:Type = Line
| 8:Label = Affiliations
| 8:Value = United States Air Force

| 9:Type = Line
| 9:Label = Gender
| 9:Value = ♂ Male

| 10:Type = Line
| 10:Label = Birth
| 10:Value = 

| 11:Type = Line
| 11:Label = Death
| 11:Value = 

| 12:Type = Line
| 12:Label = Killed by
| 12:Value = 

| 13:Type = Line
| 13:Label = Voice actor
| 13:Value = 

| 14:Type = Line
| 14:Label = Actor
| 14:Value = 

}}  Master Sergeant Carter is an AC-130 gunner, a Black Hawk gunner and drone operator who appears in Modern Combat 3: Fallen Nation and Modern Combat 4: Zero Hour.
Modern Combat 3: Fallen Nation
[
edit
|
edit source
]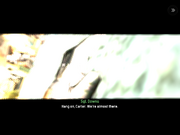 Carter makes his first appearance in Sacrifice as an AC-130 gunner providing fire for Captain Turner and Anvil Company as they run from KPR Soldiers. Carter destroys most of the bridges, making KPR Soldiers occupied from moving on to another American city. He provides cover for Anvil 1 as they are extracted from a HELO.
Carter appears in Gurdal, Pakistan as part of a helicopter team supporting Bravo 1. This time, he becomes a helicopter gunner. He provides cover for Bravo 1 and destroys a bridge to prevent Al-Akrab forces from pursuing the convoy. He then destroys several Al-Akrab outposts until when he and his team reaches the last outpost, they are shot down. Carter is the only one who survives the crash.
Modern Combat 4: Zero Hour
[
edit
|
edit source
]
Though presumed dead, Carter returns in Modern Combat 4 in Critical Path and Terminus as a drone operator providing support for Phantom Unit soldiers Downs, James Walker and Joel Blake who are chasing Everett Saunders. 
Downs reports that there were no survivors from the helicopter crash, but Carter survives. It is possible that he only blacked out after "Raging Bird" or the MC4 Carter is a relative of his.
This is The First Time That Carter Has Ever Had a Speaking Role In MC4.
Community content is available under
CC-BY-SA
unless otherwise noted.