Attachments are upgrades given to a gun to improve its performance. These first appear in Modern Combat 2: Black Pegasus as separate weapons. These appear in later games and are customisable. Attachments cannot be seen in third-person in any game. In Fallen Nation and Zero Hour, any guns picked up from enemies wil have no attachments unless the player has equipped the gun and added attachments.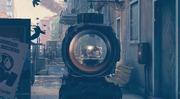 Modern Combat 2: Black Pegasus
[
]
Campaign
[
]
Attachments only appear on some secretly hidden guns and on starting weapons in certain missions.
Multiplayer
[
]
Guns with attachments are unlocked at higher levels as these weapons are usually direct upgrades. The suppressor increases hipfire accuracy, camo increases damage and Red Dot Sight gives a clear sight in ADS.
Attachments
[
]
Attachments are very limited as there is only a suppressor, a camo and a Red Dot Sight (actually a Holographic Sight).
Modern Combat 3: Fallen Nation
[
]
Campaign
[
]
Attachments are much more available and is found on some enemies and commonly on starting weapons. Permanent Extended Magazines which actually doubles the clip size can be purchased one time for weapon classes at different prices. Classes include: Submachine Guns, Assault Rifles, Sniper Rifles, Light Machine Guns, Shotguns and Pistols.
Multiplayer
[
]
There is a much larger variety of attachments which change gameplay a lot. Up to two attachments can be equipped on a primary and one on a secondary.
Attachments
[
]
Modern Combat 4: Zero Hour
[
]
Campaign
[
]
The attachments can now be customised on most weapons. All attachment can be purchased one time with blue credits. Starting Weapons usually have attachments on.
Multiplayer
[
]
The player can now put on any attachments with limits depending on the weapon class. The exact same attachment bought can be used on other weapons.
Attachments
[
]
Modern Combat 5: Blackout
[
]
Standard attachments are unlocked by increasing the weapon score of the weapon in question (this can be done by performing kills with the weapon in multiplayer or the Campaign), while Prestige attachments must be unlocked by earning blueprints for the Prestige weapon in question.
In the earliest videos of Modern Combat 5, it was possible to change the attachments on the player's weapon during a mission in the same way as it is in the armory at this point. This feature was removed before the release of the game.
Multiplayer "Tier List
[
]
The following is a list of attachments ranked based on their viability in higher-league multiplayer matches. (Attachments not listed are considered mid-low tier and may not be as viable).
Top Tier
[
]
High Tier
[
]
Attachments
[
]
Trending pages
All items (105)