Extraction is a multiplayer map in Modern Combat 4: Zero Hour. It is one of three new maps added in the Meltdown Update.
Modern Combat 4: Zero Hour
Edit
"
Ready yourself to infiltrate a WMD lab hidden deep inside the high mountains of Antarctica. This laboratory is used to create compounds such as the H5N1 virus. So watch what you're aiming at; you don't want to return home in a box. Be alert, quick and stealthy; the enemy can hide in any corner. Use the multiple corridors to your advantage. Dismissed!
"
—Website description
Extraction is set in Edward Page's laboratory in Antarctica, and is an almost completely indoor map with plenty of doorways, narrow, short hallways and small rooms, making close-range firefights the main type of combat on the map, making shotguns a logical choice. Since the map is almost completely indoors, lethal air-based killchains like the Bomber and Airstrike near worthless.
(1) Computer Labs: Elevated rooms offer vantage points for snipers providing support, which allows safe movement between the main rooms.
(2) Storage Rooms: Close-quarters combat, great to hide in with a shotgun or SMG.
(3) Outside Storage: Small outdoor area that is useful for sneaking behind the enemy team.
(4) Garage: Large open rooms that allow fast travel between team spawn locations.
(5) Main Hallway: Connects a number of rooms, useful for cutting across the map.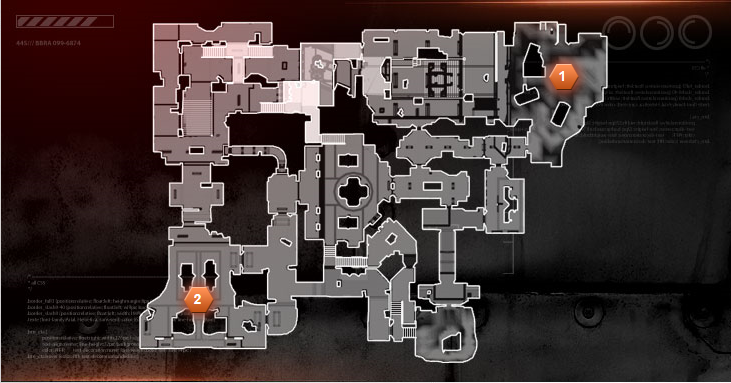 (1) Phantom Unit's Flag
(2) SGS Militia's Flag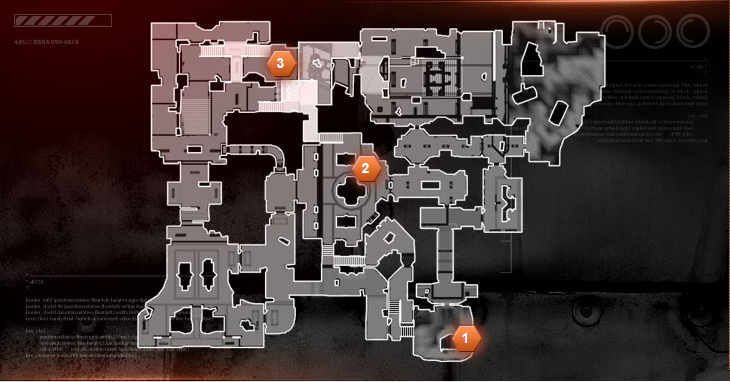 (1) Zone A
(2) Zone B
(3) Zone C
Community content is available under
CC-BY-SA
unless otherwise noted.