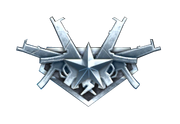 Free-For-All is a multiplayer game mode available in Modern Combat 5: Blackout. It follows the same conventional rules as Battle mode from previous Modern Combat games, however unlike in Battle, Military Support is not available.
Free-For-All is a "battle royale" in which every player is pitted against each other with out any teams. The objective is for each player to kill as many enemy players as possible within a 7 minute time limit. The player with the most kills at the end of the time limit - or the first player earn a total of 30 kills - wins the match.
If 2 or more players have the top kill score at the end of the time limit, the match enters Overtime and continues for 60 seconds; Overtime will continue to repeat until 1 player has achieved the highest kill score, or has achieved 30 kills.
Community content is available under
CC-BY-SA
unless otherwise noted.