Landfall is a multiplayer map in Modern Combat 4: Zero Hour.
Modern Combat 4: Zero Hour
Edit
"
Battle it out on an US aircraft carrier on route to attack the enemies' secret chemical production facility in Antarctica. While a handful of soldiers are on board, terrorists attempt a sneak attack! Landfall is a medium size map that provides various options for close quarter combat, as well, the outdoor deck allows for long range precision battle.
"
—Official MC4 website
Landfall is a medium-sized map, located on an aircraft carrier near the shores of Antarctica.
Despite the fact that this setting is supposedly after the events of previous game, there appears to be a wrecked KPR transport helicopter from MC3 near the helicopter deck. This is possibly a reference to the North Korean Aircraft carrier Yongwang from MC3, which also was in a winter environment and carried those helicopters.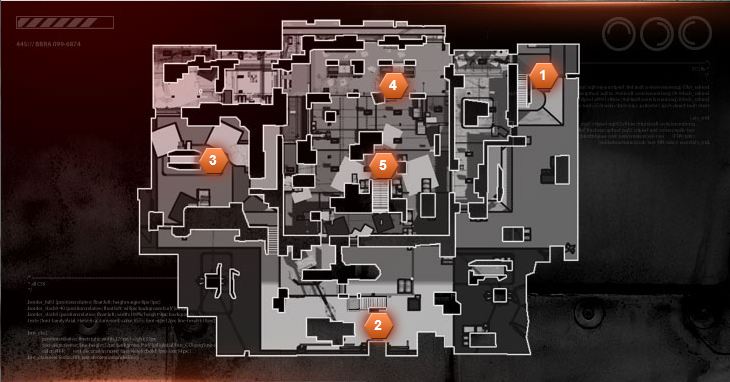 (1) Helicopter Deck: This multi-tiered area makes a great sniper perch, as well, provides plenty of cover to hide behind.
(2) Main Deck: This tight spaced area provides plenty of close quarter combat and numerous entry points will give you the opportunity to sneak up on enemies.
(3) Starboard Deck: Similar to the helicopter deck, this is a great area for sniping, you can hide in the shipping container, and gain access to multiple entry points that will take you to the rear section of the carrier.|Game Description}}
(4) Radar Control Room: Great area to use your shotgun and knife enemies in the back.
(5) Storage Area: This is a central hub, access pathways to all areas of the carrier, watch out for grenades.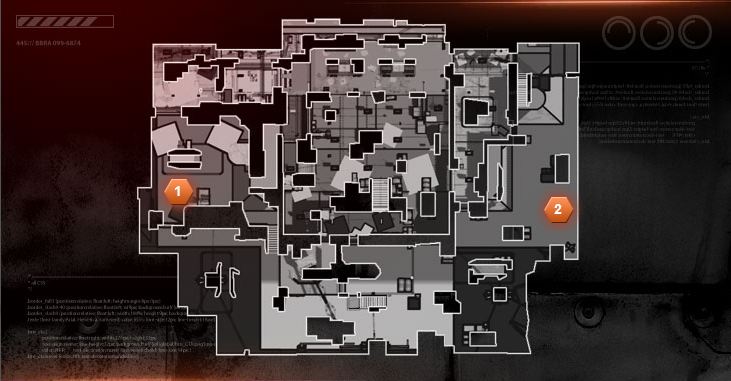 (1) Phantom Unit's flag
(2) SGS Militia's flag
Zone Control Areas
Edit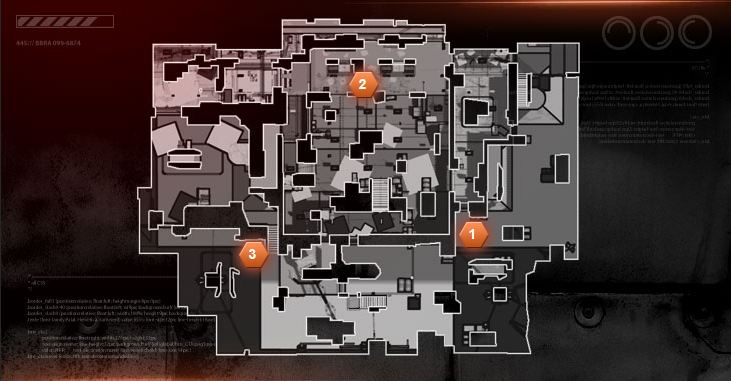 (1) Zone A
(2) Zone B
(3) Zone C
"Landfall's nearly symmetrical layout makes this a perfect map for Capture The Flag and Barebones."
"If the enemy calls in aerial military support, quickly make your way to safety and retreat to the interior areas of the carrier."
Feel free to add to this section if you feel you have a tip worth sharing. We recommmend quote-style. Here's a sample you can use, but make sure to copy and paste so future users can use it too:
"
Text here
"
—Gameloft ID here
"
For any game mode, I recommend you to use SMG's, handguns, shotguns, and the KR-200. This map is suited for close quarters combat so use weapons that are close range and devastating. Note: A good sidearm for this map is a SMG
"
—seangenodia
"
This is another one of my favorite maps. Great to play on all game types, in my opinion, esp. Team Battle. I would recommend using an assault rifle with either the Kobaszky S-40 or an SMG as a secondary. You could also use the CTK-92 Crumplor to take down the enemy killstreak equipment, too.
"
—bradok49
Despite the official description as "being based on an aircraft carrier", the map does not not show any planes, helicopters, or runways.
See also
Edit
Community content is available under
CC-BY-SA
unless otherwise noted.