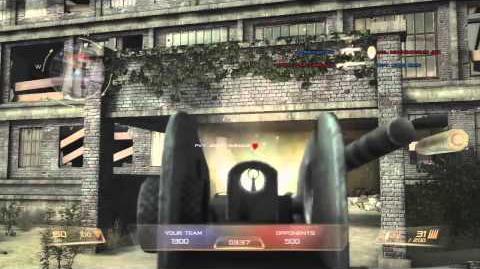 Modern Combat: Domination is an online low cost multiplayer first person shooter developed by Gameloft for PlayStation 3 and Mac. The game features both a single player mode and multiplayer mode. The game is the third Modern Combat game to be released, after Modern Combat 2: Black Pegasus. It also supports the usage of Playstation Move controls.
The game was taken out of the Mac App Store sometime in the first half of 2014.
There are two factions in the game: Special Forces and Merceranies.
Game Modes
Modern Combat: Domination has six different game modes:
Deathmatch
Domination - (a Conquest game mode)
Boom & Bust - (an Assault game mode)
Escort - (one player is randomly assigned as the "escort," and all his teammates must help him escape the level. If the escort dies, the round is over.)
Extraction - (a briefcase is spawned in the level, and one team must retrieve it and bring it back to their spawn point.)
Note that Boom & Bust, Escort, and Extraction modes feature no respawns.
There are 5 maps in-game and 32 weapons.
Gallery
Characters
Special Forces
SGT. Fernando Iguana
COL.Sam Johnson
LT.Norm Rayne
COL.Bill Kilbash
CAPT.Bambino
CAPT.Ranger
PVT.Jockey
Mercenaries
SGT.Needle Khris
LT.'MAD'Mike
GEN.John Doe
LT.Nemesis
SGT.El Diablo
Gen.Hans Lando
PVT.Ivon Drago
PVT.John Carnage
Trivia
This is the second game to be released on a gaming console, the other one being Modern Combat: Sandstorm, and is the only Modern Combat Game to be released on a Mac.
This game shares the same title theme music from Modern Combat 2: Black Pegasus.
It's the first game to have multiplayer with AI and the only game to have singleplayer with no campaign.
External links
References
↑

Citation needed
Community content is available under
CC-BY-SA
unless otherwise noted.