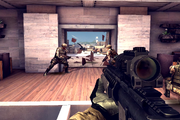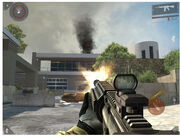 What is Modern Combat?Edit
Modern Combat is a mobile video game franchise developed and published by Gameloft. The games are first-person shooters revolving around a series of fictional conflicts set in modern times and feature a variety of real-world weapons and locations.
On what platforms can I play Modern Combat?Edit
The original Modern Combat: Sandstorm was released on August 27, 2009 for iOS, WebOS, and Android. Modern Combat 2: Black Pegasus was released in 2010 for the iOS and WebOS. Modern Combat: Domination was released sometime in mid-late 2010 to early 2011 for PS3 (Playstation 3) and Mac OSX. Modern Combat 3: Fallen Nation was released in 2011 for iOS, Android and WebOS. Modern Combat 4: Zero Hour was released for iOS on December 6th 2012. Releases for Android OS, Windows Phone, Blackberry Playbook and Blackberry 10 soon followed afterwards. Modern Combat 5 will be released for iOS/Android and Windows/Windows Phone on the 24th of July.
How often are Modern Combat games released?Edit
Modern Combat games are released roughly one year after the predecessing game. In general, this is in Q4. Modern Combat 5 is the first game to break this tradition by being set for release in Summer 2014 instead of Q4 2013.
Community content is available under
CC-BY-SA
unless otherwise noted.