Stealth is a specialization introduced in Modern Combat 4: Zero Hour.
Modern Combat 4: Zero Hour
Edit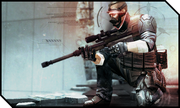 "You knew this mission wasn't going to be won by brute strength. Your feet hit the ground silently, landing a few feet behind your target. As you stealthily make your approach, the unsuspecting mercenary self-consciously adjusts his flak jacket.... and you can't help but grin from ear to ear.

He'll never know what hit him."
"
Excels in taking out targets without being seen. This is a good specialization for players who play defensively and avoid direct confrontation when possible. +50 XP and credits when performing headshot kills and melee kills.
"
—Description[1]
Rank 10 Selection Skills
Opportunism: Causes you to deal more damage against crippled, blind or stunned targets.
Sneak: Move and sprint silently.
Rank 20 Selection Skills
Grenade Belt: Spawn with two grenades instead of just one.
Decoy: Deploys a device which is shown as a red dot on enemy radar. Can be destroyed.
Rank 30 Selection Skills
Readied Shot: Shooting from the crouched position further increases accuracy
Tactical Mask: Negates chemical weapons such as stun and tear gas.
Rank 40 Selection Skills
Paragon Senses: Receive an alert when an enemy aims in your direction.
Active Camouflage: Sensors and Recon Aircraft cannot detect you. Advanced Recon will still detect you.
See also
Edit
In the website picture for the Stealth specialisation, the soldier is holding a KR600, however, the weapon never makes an appearance in the game. (See picture at top of article)
References
Edit
Community content is available under
CC-BY-SA
unless otherwise noted.