This user is an administrator on the Modern Combat Wiki
Questions, complaints and tips should be posted on the user's message wall.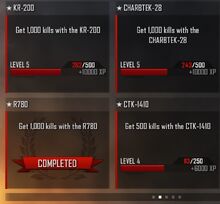 Welcome to the (former) biggest fan of SHOTGUNNING in the entire Modern Combat community. Ex-Modern Combat veteran who enjoys MC1-MC4, dislikes MC5, and hates MCV.
I've moved on from the Modern Combat series as of December 2019, but I still pop into the wiki every now and then to see what's up and make any changes if need be.
Best moments in MC
Getting a bomber with the Black Mamba on Landfall without Military Tactician (MC4)
Getting 8 collaterals with the R780 in one game (MC4)
Quad feeds with the Intercept-L200 and the X6 .338 snipers, both on Alert (MC3 and MC4)
Nuke with OPS55 and Shred-4 (MC3)
Winning a free-for all with the R780 against noobtubers and Compakt tryhards EXCLUSIVELY (MC4)
1000th kill with the R780 was a collateral (MC4)
Killing 5 campers with one nail grenade (MC5)
Killing the entire enemy team (5 players) with one Sticky grenade (MC4)
Quality of the MC games (in my opinion)
Gamer type
Killer
Explorer
Achiever
Socializer
Wiki Editing
+

Tips and tricks for weapon articles
Descriptions for weapon articles
Seeking help from admins
Adding images
Fixing typos

−
Playing MC
+

Using weapons that require skill effectively
Team player (sticks with my team)
Close, mid, and long range gunfights (with the appropriate weapon for each range)
Shotgunning
Sniping enemies at long range
Soundwhoring

−

Quickscoping/sniping enemies up close
Knowing when to sprint and when to walk
Grenade throwing (especially in MC3 and MC4)
Noobtubing
My purpose on this wiki
I am here to make this wiki a better place to visit. I do not follow the Modern Combat series anymore, but I pop in every now and then to see what needs changing and how the wiki is doing.
I prefer to be flexible, making text edits, templates, anti-vandalism, blogger, and a grammar cop all in one.
The admin role provides me with very useful moderation tools, although they are powers I hope to use only if needed to.
Contributions
I try to contribute to all pages on the wiki!
Have you seen me online in Modern Combat ever?
My Talk • Report Spam • Report Vandalism • Contact Wikia
Community content is available under
CC-BY-SA
unless otherwise noted.