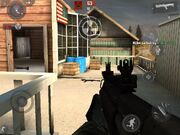 Yet another nuke of mine playing some
Team Battle
on
Recon
. This nuke was achieved with my "Ol-Pumpy", the
Defiler
, which has grown to be one of my favourite weapons in the MC series. If I redid my
Favourite Guns in MC history
list, this weapon would be a lot higher. This nuke was completed in more or less 3 minutes.
Here's a nerve-bar for me (I guess you can call it that)
When you reach Satellite Scan - meh. Ok.
When you reach Airstrike - Hmm. not bad. Still not intense.
When you reach the Turret - Pretty good kill chain I got here. Fairly intense.
Helicopter Support - Intense.
Bomber - Intense as hell.
15-18 kills - Your heart is racing like nothing else.
19 kills - You start becoming hot and you can feel your heart on your chest.
20 kills - HELL YEAH!
Community content is available under
CC-BY-SA
unless otherwise noted.