Warfare is a multiplayer mode in Modern Combat 4: Zero Hour.
Modern Combat 4: Zero Hour
Edit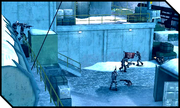 Warfare works almost the same as Zone Control, only the zones have bonus effects.
Communications relay
Edit
Reduces the points/kills needed to call military support by 1.
Supply depot
Edit
When a team has control of the supply depot, the other team instantly gets the half of their ammo.
Radar station
Edit
As long as there is a player in the zone, the whole team can see enemies on their radar.
Community content is available under
CC-BY-SA
unless otherwise noted.